Here's a Help Article for your customers to learn how they can accept proposals on your marketplace..
When you receive proposals from freelancers for a job you've posted, you'll need to review and accept one of them, then manage the job. Here's how you do it:
Video Guide
Step by Step Guide
A customer can view the proposals they have received for all their posted jobs by going to 'Jobs' –> 'Proposals'. If they select a specific proposal a similar page to that shown in the image will appear, with the freelancer's profile, and the details of the proposal they submitted, with the relevant details.
If the customer is satisfied with the proposal, they can accept the contract (must first be onboarded on Stripe). If they are not, they can scroll down on the same page and send a message to the freelancer to clarify/adapt details of the milestones, or begin a two-way video call (if the admin has this feature enabled).
Once a contract is accepted it becomes live. Each milestone will have its own status, and can be completed in parallel. For individual milestones the customer must first pay- with the money held in escrow- and once the freelancer has completed the task the customer can approve the work at which point the freelancer will receive those funds.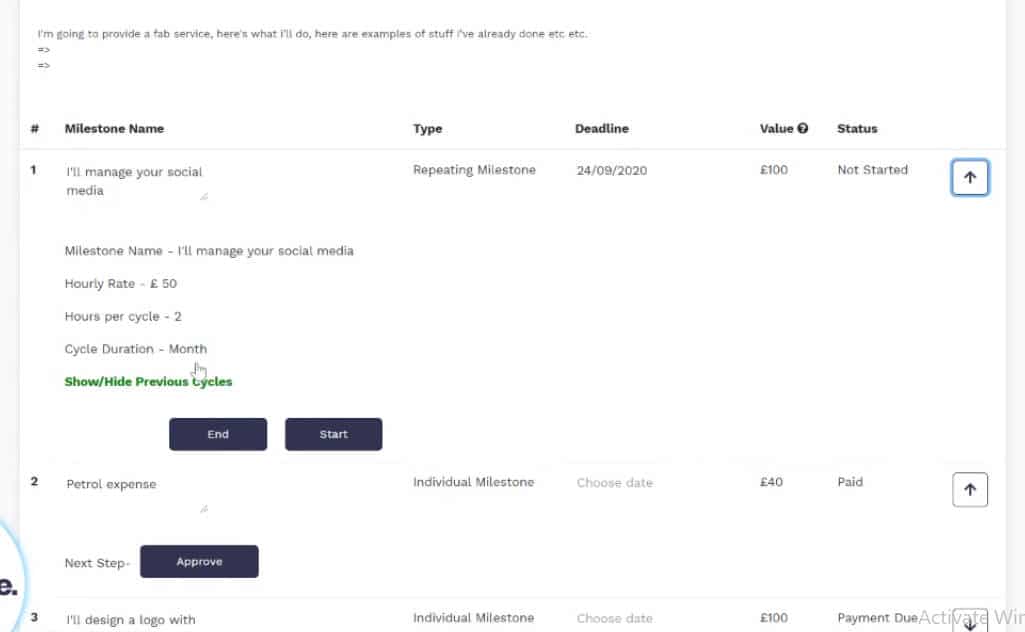 Repeating milestones can be started and paused/ended at any point. The freelancer must submit the hours by the final Sunday night prior to the cycle's end (either weekly or monthly). A customer has the ability to accept the claim and pay it, or dispute the claim, which the marketplace administrators handle.
To end a contract, all the milestones must be completed or ended- there cannot be any active repeating milestones.