Here's a Help Article for you to explain to your freelancer users how they can find a job on your platform.
Here's how to find a job on our platform.

1 – Check your email
We'll send you an email whenever a suitable job is posted, so keep an eye on your inbox (if you're not getting emails, check your spam folder). To learn more and apply, click 'View Job':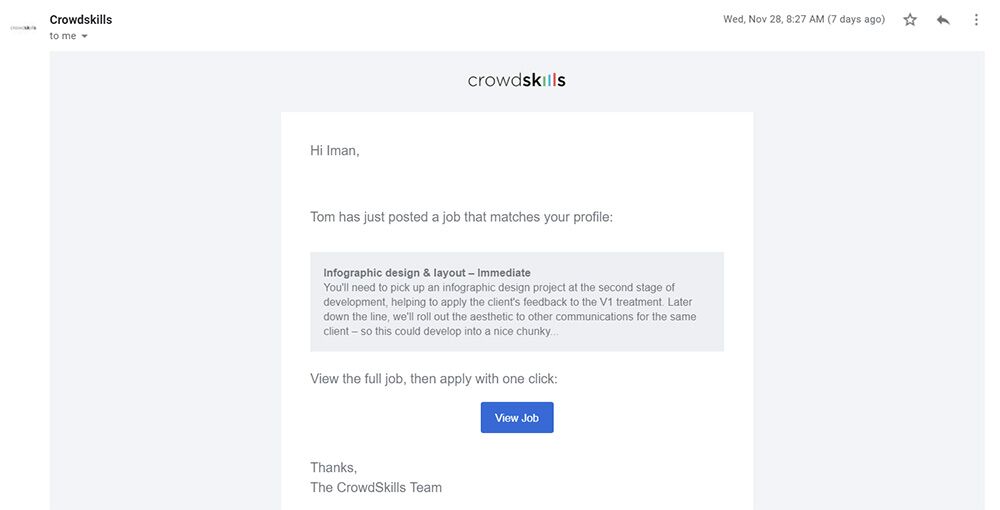 TOP TIP: you need a relevant portfolio item to apply for a job e.g. an item showing your 'graphic design' skills to apply for a 'graphic design' job.

2 – View the job
Check out the full job description and decide whether you want to apply for it:

3 – Apply
Apply for the job by sending them a proposal. This can be a very simple description of what you can offer. Of course, the more detail you provide, the more professional it will look.
TOP TIP: remember that the company will also be reviewing your profile, so it may be worth polishing that up a little before you send your proposal.
TOP TIP: when you're quoting for the job, remember that our platform takes a 20% fee.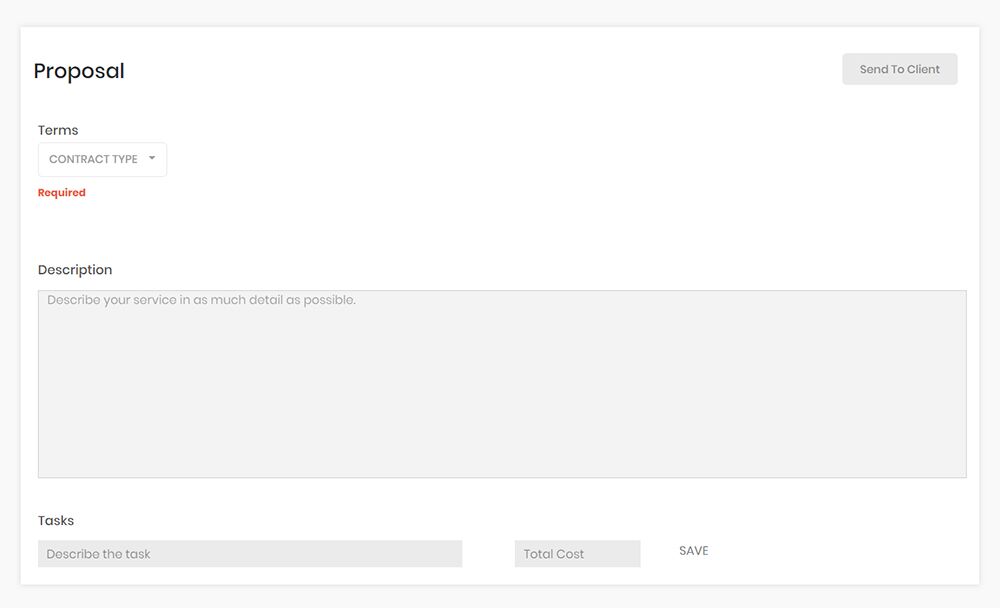 4 – Discuss the job
If the company loves your profile and your proposal, they may accept it immediately and start the contract! However, most companies prefer to start with a conversation to discuss their job in more detail, so you'll probably get an email from them to have this discussion.

5 – Start the job
As soon as you're both happy with the proposal, they will accept it, and the contract will begin!
OUR RULE: To keep you safe, you must create the contract on our platform.
TOP TIP: To ensure you get paid, before you begin any work, you should remind the company to pay for the job first. This will stay in their account until you have completed the job.

6 – Do the work
Go forth and complete the job! Let the company know you're finished by clicking the 'job done' button:

The company will let you know if there's a few tweaks still needed. When they're happy, they'll sign off on the job. This will automatically transfer the funds to your platform account.

7 – Get paid
As soon as the company signs off on a task, your funds will appear in your account on the settings page. You can withdraw as much as you want, anytime, and it will arrive in your bank account within 48 hours.
Step 1: Add your bank account details and save:

Step 2: Choose how much to withdraw:

TOP TIP: to withdraw more than £850 (since you opened your profile), you'll need to provide your ID and your freelancer registration details.